This webpage provides all the information we need to provide you an accurate quote for Gondola Shelving.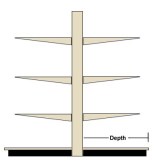 We need to know if you need wall half shelving or the island gondola shelving. The island gondola shelving generally is positioned in the middle of a store and the wall half gondola is positioned up against a wall or against an existing isle of island shelving to create an attractive end cap.
How long does you isle of shelving need to be? Sections are available in the standard widths of 3 foot wide and 4 foot wide. We have a 2 foot wide and a 30 inch wide available by special order. With these widths we can create just about any length of shelving desired.
How high does you isle of shelving need to be? We have heights starting at 3 foot high and heights as high as 96 inches and beyond by special order or with the use of extension uprights.
How many rows of upper shelves are needed, not including he base shelf. The base shelf is included with the purchase of the sections.
Please note if an end cap is needed on one end or both ends of an island gondola.
Once you have assembled this information please call one of our knowledgeable sales reps for an accurate quote today of follow the link below for an online quote.
The Single Sided Gondola is generally placed against a wall.